General Quote Template - DBN - 220721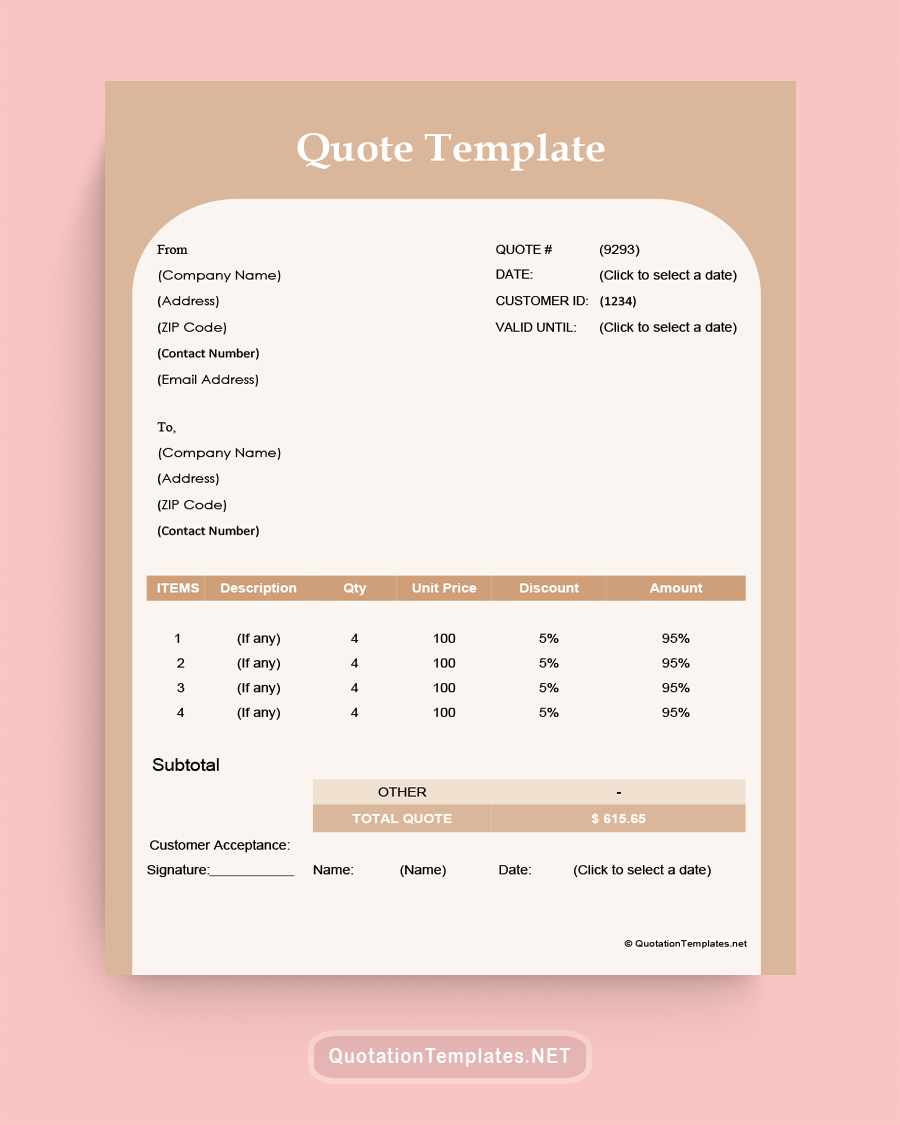 Free License More Info
Attribution is required
How to attribute?
File Type:
A General Quote Template is a predetermined format or structure that aids in the creation and management of quotes. These quotes could pertain to a variety of sectors, such as sales, services, consulting, or any other business where providing quotes is a regular activity. It serves as a roadmap to prepare professional and standardized quotes swiftly and consistently, enhancing the efficiency of your business operations.
The simplicity of our General Quote Template's theme means it is easy to navigate, minimizing the time spent figuring out the layout and focusing more on filling in the relevant information. With a dark brown color scheme against a stark white background, the template presents a striking contrast that makes the details stand out. This color palette not only exudes professionalism but also keeps the design clean, clear, and easy on the eyes.
The General Quote Template incorporates all the critical elements necessary for formulating an effective quote. It allows you to delineate the description of the goods or services being offered, their corresponding quantities or hours, unit prices, and the total cost. Furthermore, it provides space for taxes, discounts, and additional charges, leading to a clear and concise final total.
In addition, there's room for the essential contact information of both the business and the client. This includes names, addresses, contact numbers, and email addresses. The template also ensures legal compliance by having sections for terms and conditions, validity dates, and signatures, further strengthening the credibility of your quote.
This General Quote Template also enables customization, so it can be tailored to fit the unique needs of different businesses. The modifiable fields ensure the template remains versatile and adaptable to a variety of business scenarios.
The General Quote Template, with its simple theme and striking contrast of dark brown and white, provides an elegant and straightforward solution for generating quotes. It is comprehensive, customizable, and easy to use, making the quote-making process smoother, faster, and more consistent.
Read more