Photography Quote Template - BLK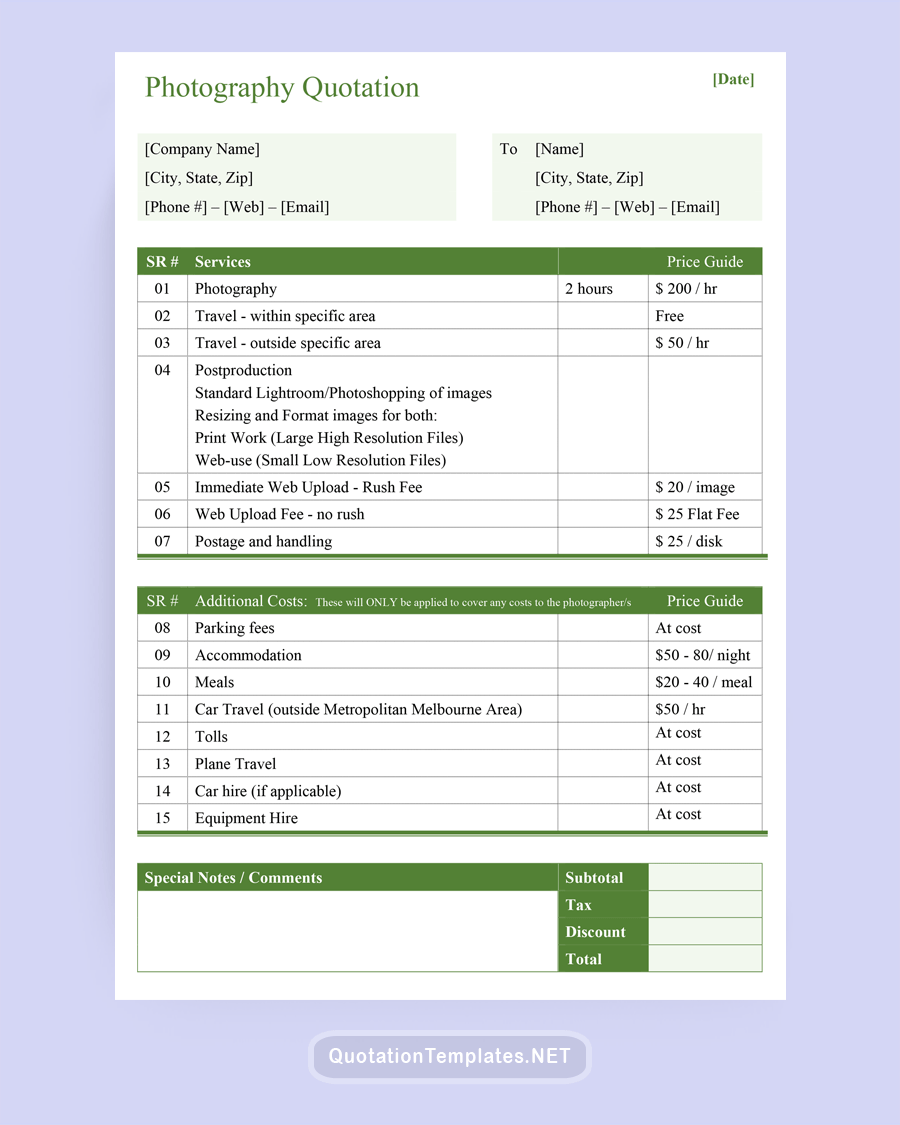 Free License More Info
Attribution is required
How to attribute?
File Type:
A photography quote is an essential component of any professional photographer's arsenal. It serves as a formal document that outlines the scope of a project, the services offered, and the associated costs. Crafting a photography quote from scratch can be a time-consuming task, involving careful consideration of various factors. However, with the Photography Quote Template, you can streamline this process, saving time and effort while presenting your work in a visually appealing manner.
Designed with a photographic theme and a sleek black color scheme, the Photography Quote Template exudes professionalism and sophistication. It has been carefully crafted to cater specifically to the needs of photographers, ensuring that every crucial detail is included while maintaining an aesthetic that reflects the artistry of the profession.
The template features a clean and crisp white background, providing a perfect canvas to present your photography services and pricing. The minimalistic design allows your work to take center stage, enabling potential clients to focus on the quality of your portfolio and the comprehensive breakdown of your services.
Within this template, you will find sections dedicated to capturing the essential details that are necessary for a photography quote. These include areas to input the client's name and contact information, project description and specifications, service packages and pricing, payment terms, and additional notes. Each section is thoughtfully laid out to ensure clarity and ease of understanding, making it simple for both you and your clients to navigate and comprehend the quote effortlessly.
The Photography Quote Template's black color scheme not only exudes elegance but also adds a touch of professionalism to your quote. Black is often associated with sophistication, formality, and timelessness, making it the perfect choice for presenting your photography services. It sets the tone for a professional relationship and conveys your commitment to delivering exceptional work.
By utilizing this template, you can save valuable time that would otherwise be spent manually creating quotes for each client. The pre-designed format ensures consistency across all your quotes, presenting a cohesive brand image to your potential clients. This attention to detail and professionalism will inspire confidence in your clients, showcasing your dedication to excellence from the very first interaction.
Photography Quote Template is a powerful tool that simplifies the process of creating professional photography quotes. With its photographic theme, black color scheme, and white background, it strikes the perfect balance between style and functionality. By utilizing this template, you can present your photography services and pricing with elegance and clarity, leaving a lasting impression on your clients. Streamline your client communication, save time, and enhance your professional image with the Photography Quote Template.
Read more