Price Quote Template - GN - 220728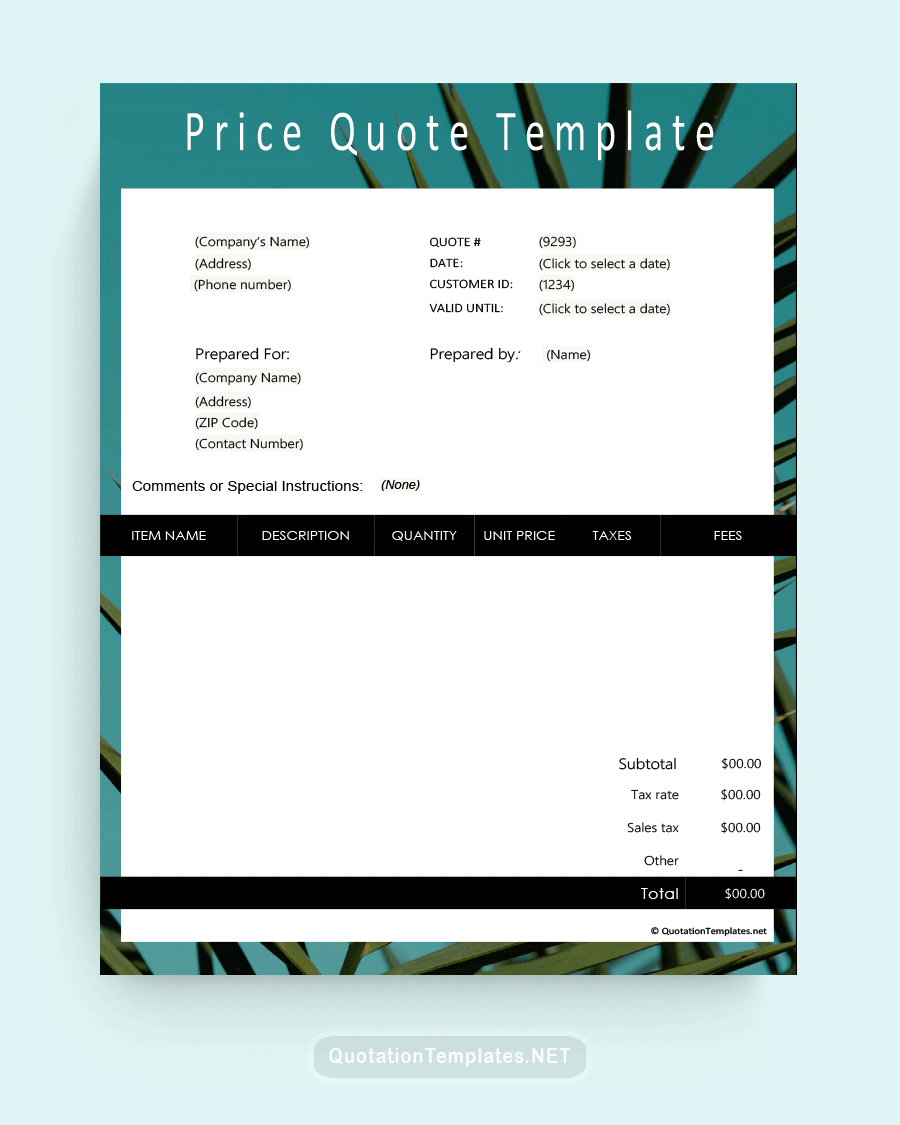 Free License More Info
Attribution is required
How to attribute?
File Type:
A Price Quote Template is a standardized format that businesses use to provide prospective customers with a precise calculation of a product's or service's cost. This handy document outlines the price breakdown for a potential transaction, and it plays a vital role in commercial communications, fostering transparency, and establishing trust between the buyer and seller.
The Price Quote Template we offer is specifically designed to keep your process of generating price quotes simple, efficient, and professional. It features an uncluttered and straightforward theme with a pleasing blend of white, green, and black colors. The design of this template is geared towards making the user's experience as smooth as possible, while simultaneously ensuring it is aesthetically pleasing and professional to present to clients.
This template is filled with all necessary elements that a comprehensive Price Quote Template should embody. At the top, you will find sections for your company's details such as your name, address, and contact information, ensuring your business is recognizable and easily contactable.
The body of the template is dedicated to the main event—the quote. It offers dedicated spaces to list your products or services, their descriptions, quantities, and unit prices. There's also room for adding any additional charges or discounts, leading to the total cost estimate, which is prominently displayed at the bottom of the quote.
Additionally, the template offers a section where you can outline your payment terms and conditions, which is crucial for avoiding any misunderstandings further down the line. It also has a spot for a personalized message, allowing you to add a touch of warmth and customer-focused attention.
Another salient feature of this Price Quote Template is its use of color. The green and black elements on the white background not only make the template pleasing to the eye but also guide the reader's gaze towards the most important elements—the products or services, and the total price.
This Price Quote Template is an excellent way to establish your business as professional and reliable. Its simplicity ensures it can be filled out swiftly and easily, while its completeness ensures it communicates all necessary information to your prospective clients. By adopting this template, you can give your potential customers a clear, easy-to-understand, and professional impression of your business and the pricing of your services or products.
Read more