Wedding Catering Quote Template - RED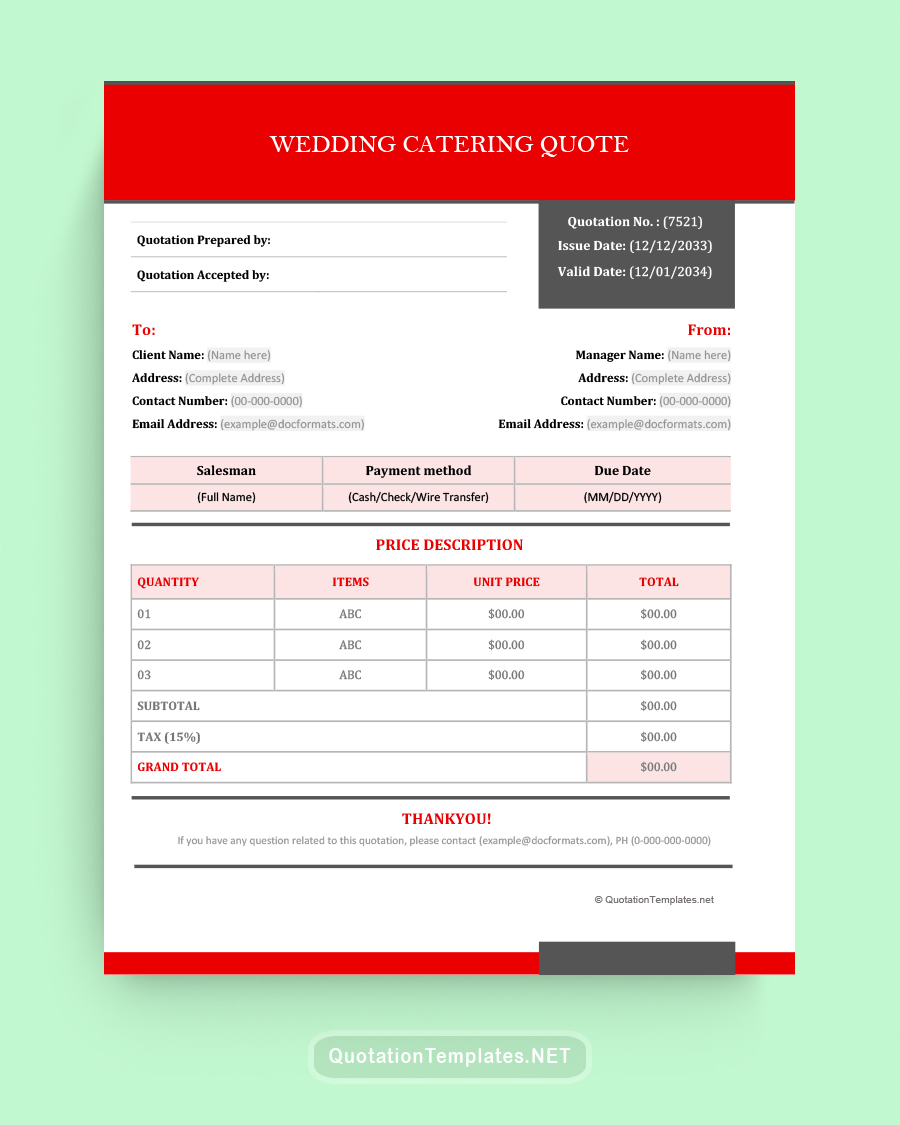 Free License More Info
Attribution is required
How to attribute?
File Type:
Wedding Catering Quote Template - RED
Are you in the midst of planning your dream wedding? The myriad of tasks to organize and decisions to make can be overwhelming. One crucial aspect that demands careful attention is selecting the right catering service to ensure a delectable and memorable dining experience for your guests. To streamline this process and alleviate some of the stress, a Wedding Catering Quote Template can be your saving grace.
What is a Wedding Catering Quote Template? It is a pre-designed document that provides a structured format for catering companies to present their services and pricing information to potential clients. This versatile tool is tailored specifically for wedding catering, incorporating all the essential details required to make an informed decision.
Picture this: a professional theme with a dash of sophistication and elegance. The Wedding Catering Quote Template employs a captivating red color scheme to evoke a sense of warmth and passion. The color choice not only adds visual appeal but also symbolizes love and celebration, perfectly aligning with the atmosphere of a wedding.
Now, let's delve into the contents of this comprehensive template. At the top of the document, you will find the company logo, prominently displayed to reinforce brand recognition and establish credibility. Directly below, there is ample space to input the bride and groom's names, wedding date, and contact information, ensuring personalized communication and easy reference.
Moving down the template, you will come across a section dedicated to outlining the various catering packages and services offered. This area allows the caterer to showcase their expertise and flexibility by presenting a range of options, from buffet-style meals to plated courses, vegetarian or vegan alternatives, and even customized menus tailored to specific dietary requirements or cultural preferences. With such clear and concise details, you can easily compare different packages and select the one that best suits your needs and budget.
The Wedding Catering Quote Template also provides a dedicated space for the caterer to list all the inclusions, such as appetizers, main courses, desserts, beverages, and any additional services like cake cutting or staffing. This level of transparency allows you to assess the value and comprehensiveness of each package, ensuring you make an informed decision without any hidden surprises.
One of the most critical aspects of any wedding catering quote is the pricing information. This template excels in presenting a clear breakdown of costs, eliminating any ambiguity or confusion. It incorporates a detailed section that itemizes the pricing for each package, making it easy to compare quotes from different caterers. Moreover, the template includes a section for additional charges, such as venue fees, service charges, or any special requests, ensuring transparency and accurate cost estimation.
Finally, the Wedding Catering Quote Template concludes with a professional and polite closing note, encouraging the reader to reach out with any questions or to proceed with the booking. The template also includes space for the caterer's contact information, making it convenient for you to get in touch and take the next steps in securing their services.
The Wedding Catering Quote Template is an invaluable resource that simplifies the wedding planning process. With its professional theme, captivating red color scheme, and meticulous attention to detail, this template provides an efficient and user-friendly solution for comparing catering services and making informed decisions. Embrace the convenience and elegance of this template as you navigate the exciting journey of planning your special day.
Read more