Whether your company provides landscaping services or renovation services, it is important to provide high quality job quotations that provide your customers everything that they need to know. A properly prepared job quotation communicates professionalism and also protects your company. Managing job scope and customer expectations can easily be provided using one of our job quotation templates.
Clients can download a job quotation template from our web site and customize it to meet their needs. They are available in either Microsoft Excel or in Microsoft Word. Use whichever format your team is most comfortable with. Once you have downloaded the template, customize it to add items such as company logos, notes as well as terms and conditions.
Adding your company's logo to the template is easy. The logo represents your brand and will help customers identify with your company on web sites, vehicles and invoices. Both customers and clients can print the job quotation template locally on printers as well as save files using PDF formats.
Terms and conditions and job notes are extremely important when it comes to managing job scope and customer expectations. Standard terms and conditions can be added to the job quotation template to ensure that they are on every general quotation you deliver to your potential clients. This protects you and your client and easily communicates any terms and conditions that are important in your quote.
Specialize notes can also be added to your job quotation. These can be personalized to the job your company is quoting on. These notes and job information can be very important when it comes to managing your customer's expectations regarding when the job will start, complete, materials used and much more.
Every job or service quotation template comes with the ability to add and manage serial numbers. Serial numbers help your company keep track of various quotations to customers. Download our job quotation template today and get started.
Job Quotation Template for Word,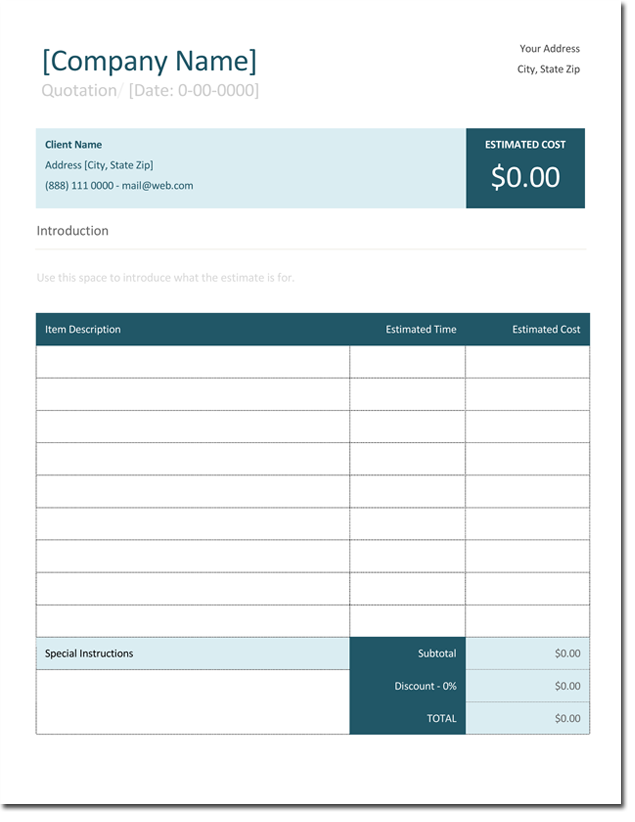 Download