Construction Company Quote Template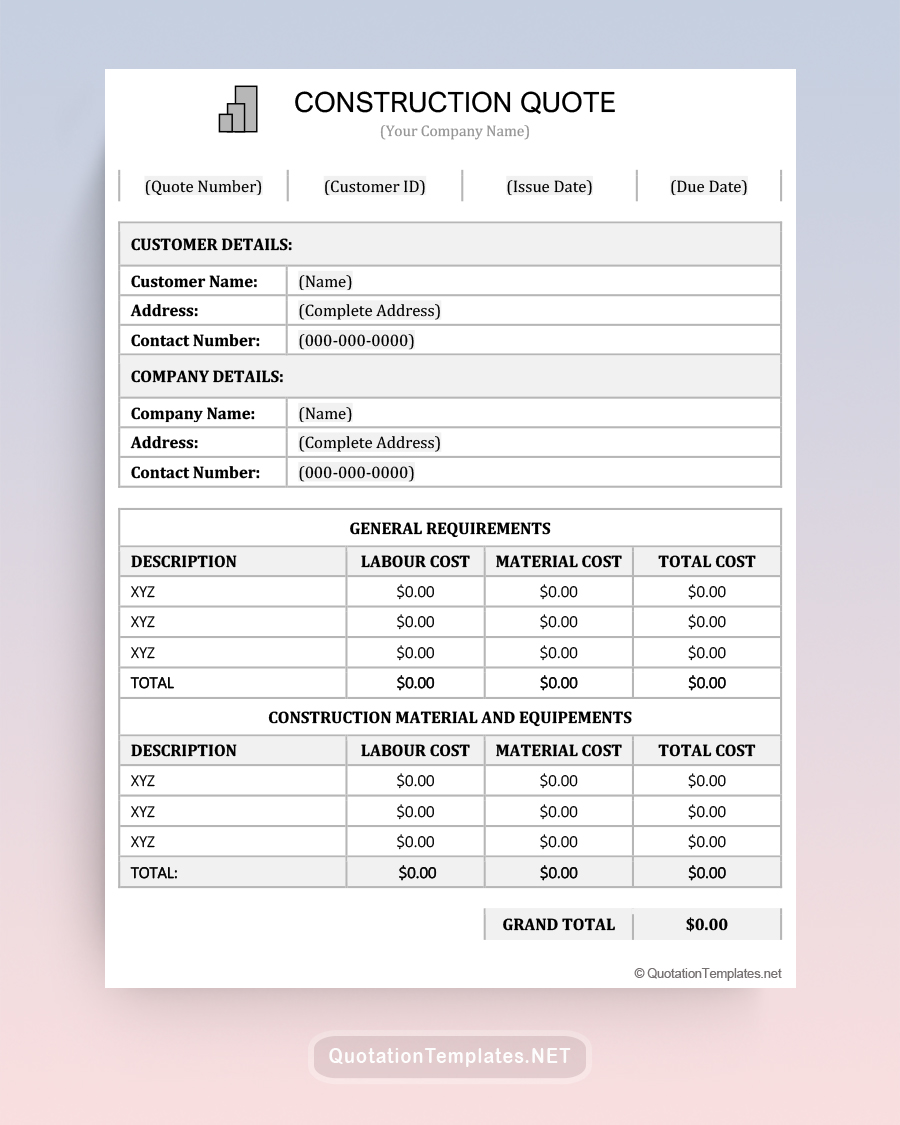 Free License More Info
Attribution is required
How to attribute?
File Type:
A Construction Quote Template serves as a valuable document in the construction industry, providing a concise and systematic overview of costs related to a construction project. It is an essential step in the initial stages of a project that assists in detailing all the necessary expenses, giving clients an idea of the probable costs. Such templates offer substantial aid in fostering transparency and trust between service providers and clients, helping to eliminate ambiguity around financial commitments.
Our Construction Quote Template is designed with a simple theme, making it user-friendly and easy to understand. It embodies a timeless black and white color scheme, imparting a professional look and feel that aligns perfectly with the industry's gravity and seriousness. The uncluttered and straightforward design ensures readability, helping you to present the information in a clear and concise manner. Its minimalistic approach aims to reduce confusion, focusing more on the content than the aesthetics.
This template is exhaustive and incorporates all the essential details expected in a Construction Quote Template. It includes sections for the project's description, labor and material costs, overheads, subcontractor costs, and allowances for unforeseen expenses. Additionally, it allows for the inclusion of terms and conditions, the payment schedule, and a signature field for both the contractor and the client.
The construction process is made up of many stages, each with its own unique set of complexities. The Construction Quote Template helps you manage and streamline the financial aspects of your project. You'll be able to easily itemize costs, breaking down complex project scopes into manageable parts. With a clear outline of expenses, you can plan your budget effectively, avoiding unexpected costs down the line.
Not only is this template beneficial for contractors in preparing a comprehensive quote, but it's also beneficial for clients as they can understand where their money is going. It eliminates surprises, ensuring that both parties are on the same page before the construction project commences.
Furthermore, it serves as an excellent record for future reference. You can go back and assess the costs, find patterns, and devise strategies to reduce expenses in future projects.
Adopting this Construction Quote Template into your business process will enhance efficiency, reduce misunderstanding, and foster positive relationships with your clients. It brings forth a new level of professionalism and transparency that is highly appreciated in the construction industry. Enjoy the simplicity of the template design and the power it brings to your construction project quoting process.
Read more