Work From Home Quote Template - DGRN - 220915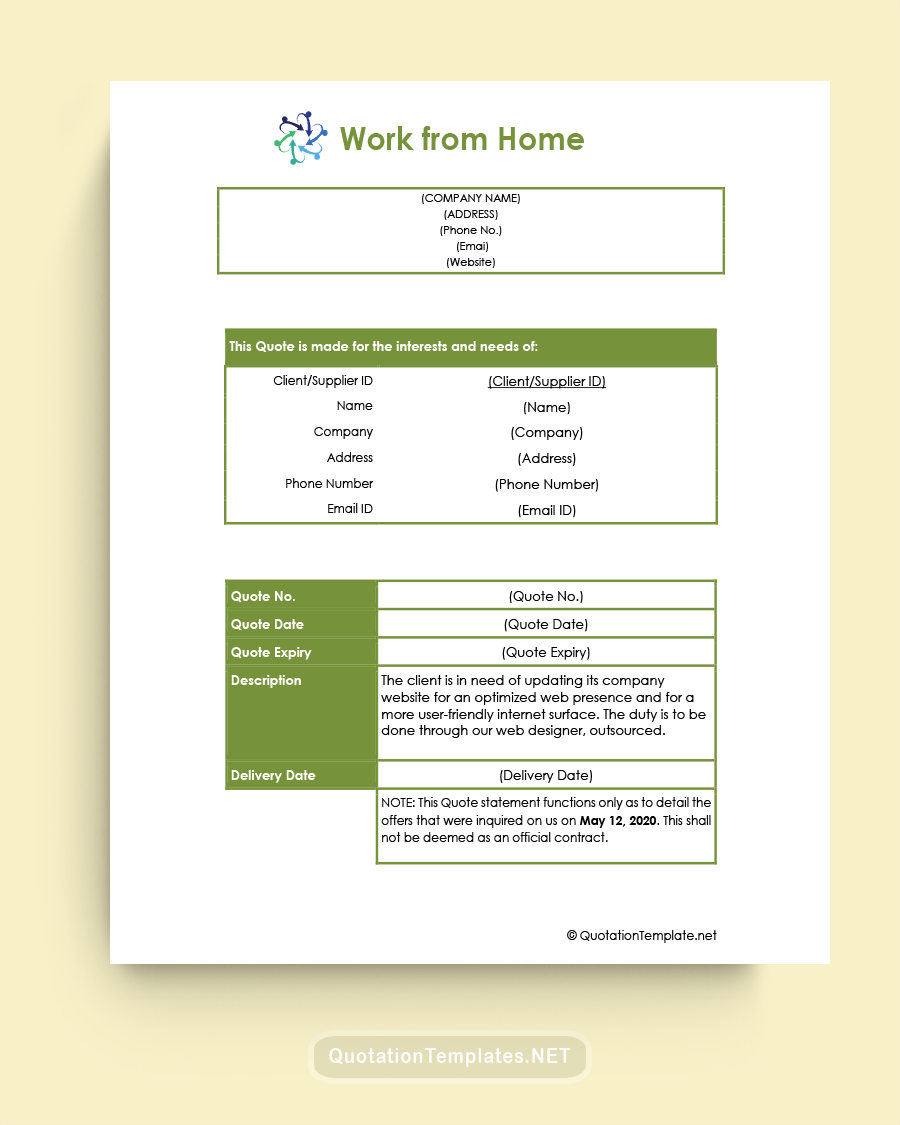 Free License More Info
Attribution is required
How to attribute?
File Type:
A Work From Home Quote Template is an essential document specifically designed to assist remote workers in summarizing and detailing their proposed projects or assignments. This document takes the form of a structured guide that is comprehensive and straightforward to navigate, making the process of preparing a quote easier and more efficient.
Primarily, this template serves as a catalyst to your work-from-home tasks, turning potentially complex and time-consuming project quoting into a hassle-free process. It's an essential resource for freelancers, independent contractors, and even corporate employees who are embracing the new normal of remote work. By providing an organized structure, it ensures all the crucial elements of a quote are covered and no pertinent details are left out.
The Work From Home Quote Template features a simple design, mirroring a clean, uncluttered approach that prioritizes function over unnecessary embellishments. The contrasting dark green and white color scheme offers a professional yet fresh visual appeal. Its simplicity makes it accessible for users of all skill levels, requiring minimal effort to fill in and present to your clients or supervisors.
This template caters to all the vital elements required in a standard work quote. It includes fields for project description, task breakdown, estimated hours for completion, corresponding rates, and deadlines, among others. It allows for clear, concise communication of what will be provided, the timeline for completion, and the total costs involved.
Each field in the template is designed to promote transparency and establish clear expectations. The project description allows you to give an overview of what you're proposing to undertake. The task breakdown field helps in detailing each specific task that will be accomplished, enhancing clarity about the scope of work. The estimated hours and corresponding rates ensure that there is no ambiguity regarding the work hours and payment details. The deadline field aids in setting realistic timelines for task completion.
Moreover, the dark green color is used to highlight key information and guide the reader's eye through the quote, ensuring the most important points stand out. The white background provides a clean, uncluttered backdrop that makes the details easier to read and understand.
The Work From Home Quote Template not only streamlines your process but also communicates professionalism, precision, and a clear understanding of the project at hand. Its well-thought-out design and color scheme, combined with the comprehensive details it covers, makes it an indispensable resource for any remote worker. It truly encapsulates a modern, efficient approach to crafting project quotes for the work-from-home environment.
Read more